Make your own wall plaque out of an old oversized frame.
All you need is wood which is cut to fit inside an ornate frame, which then you can tack on these lovely vintage wall ornaments.
Most of all of them are made of plastic, so you have to be very careful not to shatter the plastic when hammering them into place.
Paint your plaque an off gray and when it is dry, either gold leaf the ornaments, or wash them with white paint.
After your first coat is dry, you can either use glaze which is mixed into paint, or you can apply the paint right over top of your first coat. Within a couple minutes, after it is somewhat dry, wipe it off using a damp rag. It is a little tricky using paint alone, so I would suggest playing around with a couple of the finishes before attempting on your final relief picture. Either way, these vintage floral plastic ornaments are perfect for these primitive decorations. Many of these plaques come in pairs, which are slightly different giving you the opportunity to make a wall collection.
Fruit Carving Ii Bronze Wall Plaque Decor Pizzazz Home Decor
Stunning Swedish Painted Decor- Painted Trumeau Mirrors- Annette Schatte From Cote De Texas
Ornate Floral Ribbon Wreath Bronze Wall Plaque Decor Pizzazz Home Decor
Rose & Ribbon Carving Antique Gold Wall Plaque Decor Pizzazz Home Decor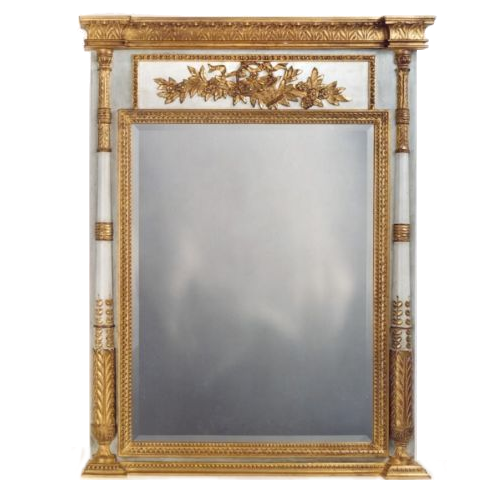 Carvers Guild Age Trumeau Mirror From Stancils Antiques Unlimited