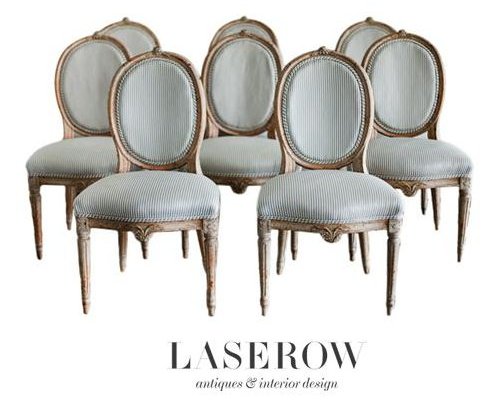 Swedish Chairs 1775-1790 From Laserow Antiques 200 Lexington Ave, #408 New York City
A heavy cotton ticking is one of the most authentic old world looking fabrics that you can choose for upholstery, drapery, throw pillows and slipcovers.  It has enough of a design to be interesting, but at the same time, isn't overly complex, and rather simple.
Ticking has become the popular choices of vintage and antique textiles for restoring antiques. Today you can buy this simplistic yet elegant fabric in as many yards as you so desire, making it a very convenient fabric to choose for upholstery, drapery, or bed linens.
The word 'ticking' originates from the noun tick, which is a fabric case stuffed to form a mattress or pillow. The earliest reference is from 1669 for 'ticken', from which the current spelling is derived. In the earliest days when mattresses were made of straw, and pillows were made of feathers, a sturdy linen was needed to keep the stuffing from falling out.
Ticking is a noticeably rigid sturdy fabric with a close, even weave. Quality ticking should have a very tight weave while being quite stiff. The fabric also should not drape easily over the hand.
Ticking is distinguishable from other heavy linen prints as it has an uncomplicated vertical stripe. Ticking comes in an indigo blue, navy, red, pink, beige and gray, depending on the supplier. Ticking fabric is often the most popular choice, as it is a crisp design making it one of the easiest patterns to accessorize with. Ticking has a casual feel that many people find reassuring and peaceful.